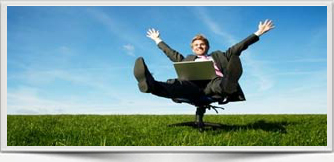 The average agent receives LESS than 10% of their business from their brokerage and that business comes with additional strings attached (referral fees, desk fees, tech fees on top of lopsided commission splits). So, we wondered why the average agent hands over 25% or more of their hard-earned commission in exchange for so very little in return?
We formed The Virtual Realty Group to give agents a well-deserved alternative to both the "lopsided commission draining", and the challenges of going it alone.
In lieu of the traditional brick and mortar office, we provide better support, leads, benefits, training, features, business development coaching and the best 100% commission plan in the industry.
With so much more income retained in the agents' pockets, they can generally afford home offices, shared executive suites or nicer private offices if need be. Additionally, we have taken all of these imaginable tools (low-tech and high-tech) out of the physical office and put them in our one-of-a-kind Agent Online (Virtual) Backoffice which is accessible 24/7 from anywhere in the world.
How would I know if I am ready for a virtual/home office environment?
You have a scanner, printer, computer, and internet access to start. This enables you to send and receive documents with ease. If you are not virtual/home office ready, we're happy to help you get ready. We can make helpful suggestions and minor changes to your present business practices.
Is it difficult to work virtually?
No, most agents already have a home office anyway. Some agents feel if they work from home full-time that they will lose their office support. This is truly a big misconception and not true at all. Believe it or not, we offer better support than a traditional office. We just do it by phone, email, text, and webinars. You can read for yourself, some of our Agent Testimonials here. Working smarter instead of harder has never been easier. Please contact us to learn more about why we just might be the best choice for you.